Only in English
News
Fuglefestival 2019
Programme
Volunteer
Species list
Deviation
Log
Ringing numbers
About us
Volunteers 2019
Volunteers 2017/18
Volunteers 2015/16
Recording area
School project
Accommodation
Guiding
Publications
2011-2018
1957-2010
Transport
Contact
Shop & support us
Bird Obs Norway
Videos
Log in
Search the site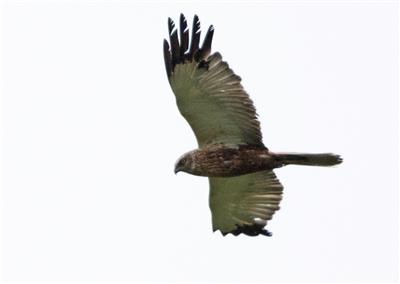 Bird of the week - Marsh Harrier
Marsh Harrier
-Circus aeruginosus-
The Marsh Harrier is one of the few birds of prey nesting at the flat area of Lista, more specifically in the Slevdalsvann wetland.

This species is a migratory bird that is overwintering in Africa. However, the local birds can come already in March. The males have partly a gray plumage, while females and young birds are brown.

The Marsh Harrier breeds in marshes, a habitat that has become more common due to the drainage of wetlands, which have promoted the proliferation of marshes. This has helped the species to establish here. It actually bred for the first time in Norway in Slevdalsvann (Lista) in 1975. Since then it has become more common and is nesting in more places in southern Norway.

Data from Lista Fuglestasjon since 1990:



Figure 1. Timing of migration at Lista Bird Observatory
This graph shows the timing of migration throughout the year, taken from the observations of our daily counts. The number is the total number of years for all years. Note: our counts in spring are from March 15 to June 10 and in autumn from July 15 to November 15.
Figure 2. Observations per year at Lista Bird Observatory
This graph shows the number of observations distributed by years. The yellow line is the average for all years. Note that the observations for 2018 will be completed in November.