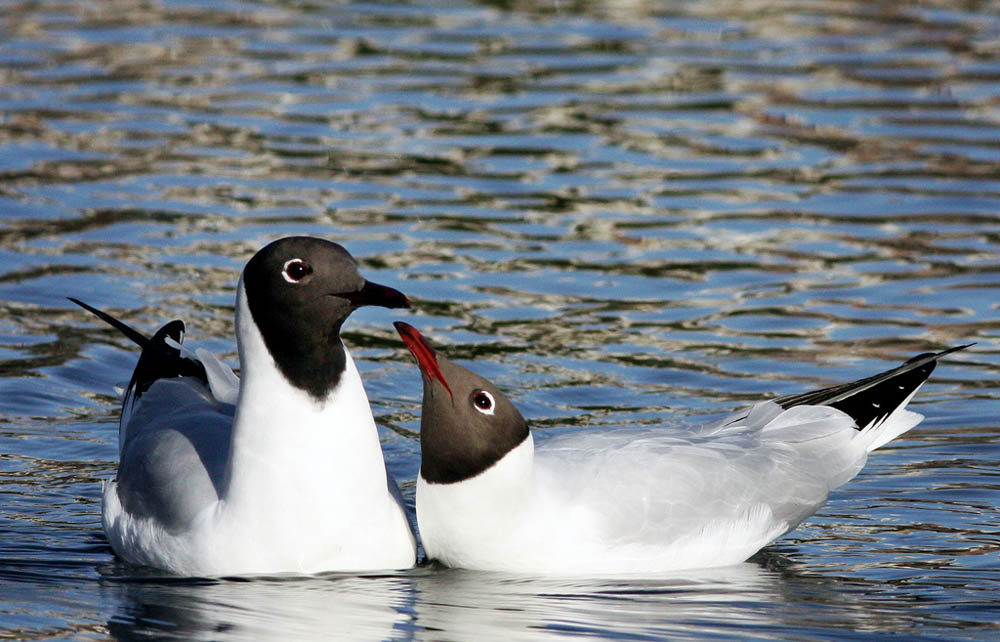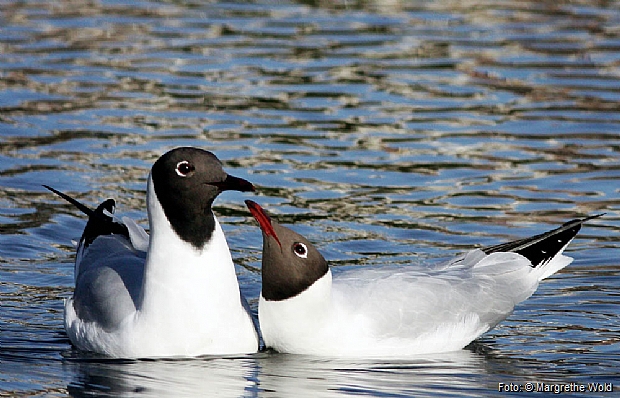 Black-headed gulls in courtship display
Black-headed gull is one of the species with a notable decline in the monitoring programme. On the Norwegian red list, black-headed gull is classified as NT (near threatened).
Population monitoring at Jomfruland- og Lista Bird Observatories 2011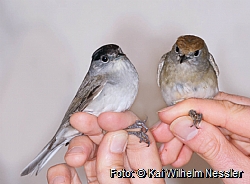 Blackcap, male and female
This blackcap couple might face a promising future. Blackcap is one of the species that show significant population increase in the monitoring programme.
Lista- and Jomfruland Bird Observatories report annually on the monitoring programme for approximately 200 species to the Directorate for Nature Management. This is the second report published. It covers the year 2011, but also gives an update on notable population trends over the 20-30 year long monitoring period.
By M. Wold The daily migration counts and the numbers from the standardized mist netting campaigns comprise monitoring series that are relevant to nature management. Long, uninterrupted series are especially valuable for climate research where long term changes over decades are essential. Long term monitoring series are also important for documenting changes in biological diversity, perhaps as a consequence of human activity in nature. The monitoring series at the bird observatories are some of the longest and most extensive biological time series that exist in Norway. The data material from both Lista and Jomfruland is large and extensive, and can give early indications of population changes in certain species.
Species with population increase and decline
The species with the most significant population increase through the monitoring periods at both Lista and Jomfruland is mute swan, greylag goose, pink-footed goose, mallard, velvet scoter, goosander, red-throated diver, shag, grey heron, common buzzard, peregrin falcon, wood sandpiper, black guillemot, grey wagtail, raven, song thrush, blackcap, chiffchaff, great tit and goldfinch. Species with significant decline are: ruff, black-headed gull, rook, starling, whinchat, goldcrest, tree sparrow, twite and rosefinch. Autumn 2011 emerged as good season for raptors and owls given that it was a year with a good production of rodents. There was also a notable invasion of two-barred crossbills from the east this year. The report can be downloaded here (pdf 2.7 MN, only in Norwegian):DN Rapport 2011
Acknowledgements
We are grateful for numerous hours of field work done by volunteers and field workers at Lista and Jomfruland Bird Observatories. The Directorate for Nature Managment is acknowledged for support to the standardized mist netting campaigns and to the work with the database and this report.