Only in English
News
Fuglefestival 2019
Programme
Volunteer
Species list
Deviation
Log
Ringing numbers
About us
Volunteers 2019
Volunteers 2017/18
Volunteers 2015/16
Recording area
School project
Accommodation
Guiding
Publications
2011-2018
1957-2010
Transport
Contact
Shop & support us
Bird Obs Norway
Videos
Log in
Search the site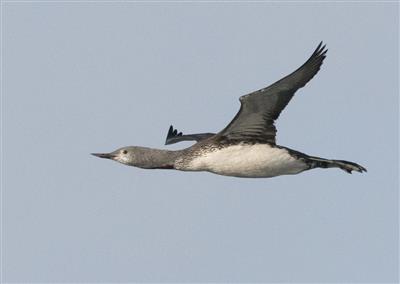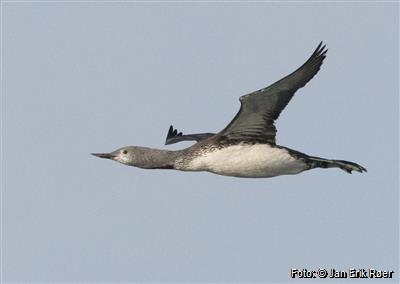 Bird of the week - Red-throated Diver
Red-throated Diver
-Gavia stellata-
The Red-throated Diver is a big waterbird with a characteristic long body, pointed beak and swimming feet visible behind the body when flying.

The beak is tilted upwards and a red narrow reddish strip is visible along the throat during the breeding season, which helps to separate it from other Diver species. This fishing species is, with its legs behind, a particularly good swimmer.

The Red-throated Divers breed in freshwaters inland far north and therefore are not abundant along the coast here. However, in good days you can see hundreds of migrating birds in small flocks out on the sea from Lista Lighthouse. This movement is most intense in May, but starts already in April and lasts in June.

Since this species only migrates through Lista Lighthouse in good distance out over the sea, and it is not quite easy to distinguish it from Black-throated Divers in distance, many of them were previously registered as an indefinite Red-throated / Black-throated divers, or even incorrectly identified as Black-throated. This means that our numbers for Red-trhated Diver cannot be interpreted directly without considering the corresponding numbers for Black-throated Divers and unidentified Divers.

Data from Lista Fuglestasjon since 1990:
(Note that "Loon" is the American name for "Diver" (English)):



Figure 1. Timing of migration at Lista Bird Observatory
This graph shows the timing of migration throughout the year, taken from the observations of our daily counts. The number is the total number of years for all years. Note: our counts in spring are from March 15 to June 10 and in autumn from July 15 to November 15.