Only in English
News
Fuglefestival 2019
Programme
Volunteer
Species list
Deviation
Log
Ringing numbers
About us
Volunteers 2019
Volunteers 2017/18
Volunteers 2015/16
Recording area
School project
Accommodation
Guiding
Publications
2011-2018
1957-2010
Transport
Contact
Shop & support us
Bird Obs Norway
Videos
Log in
Search the site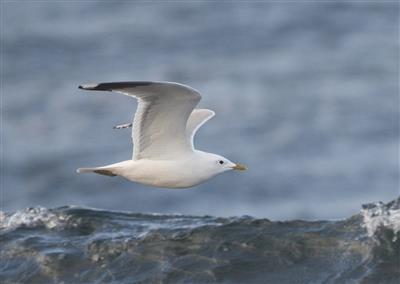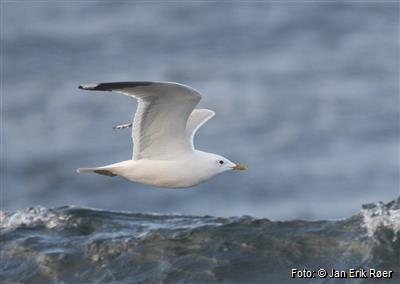 Bird of the week - Common Gull
Common Gull
-Larus canus-
The Common Gull is the smallest og the gulls we usually see at Lista. It is gray on the wings and back and resembles the Herring Gull. Dark eyes, greesnish bill and legs, could help to distinguish it from the Herring Gull, which has yellow beak and flesh-colored legs.

From the end of March and April, a considerable number of Common Gulls migrate towards north passing by Lista. There is birds that will breed along the Norwegian coast. Most of them migrate over the sea, but large flocks can also be gathered on the fields at this time.

The Common Gull is decreasing along the coast. Little amounts of fish (diet) in combination with other factors such as mink (predator of eggs and chicks) is some of the reasons of its decrease along the coast. However, they are doing well in the cities, where they can nest on roofs, being more unaccessible for predators.

The total number of Common Gulls registered every year usually ranges from 10,000 to 20,000 in the period 1990-2014. Good years when the spring migration has been closely followed (1995 and 1997) show far higher numbers. The Common Gull has been declining as a breeding species locally and nationally. The good years in the '90s may therefore have had a background in a larger total population, but we are otherwise unsure of whether our total number are suitable for assessing any population trend.

Note: Mew Gull is the American name for Common Gull.


Figure 1. Timing of migration at Lista Bird Observatory
This graph shows the timing of migration throughout the year, taken from the observations of our daily counts. The number is the total number of years for all years. Note: our counts in spring are from March 15 to June 10 and in autumn from July 15 to November 15.
Figure 2. Observations per year at Lista Bird Observatory
This graph shows the number of observations distributed by years. The yellow line is the average for all years.
Sorry, but we are outside of the spring and autum seasons.
Detailed log