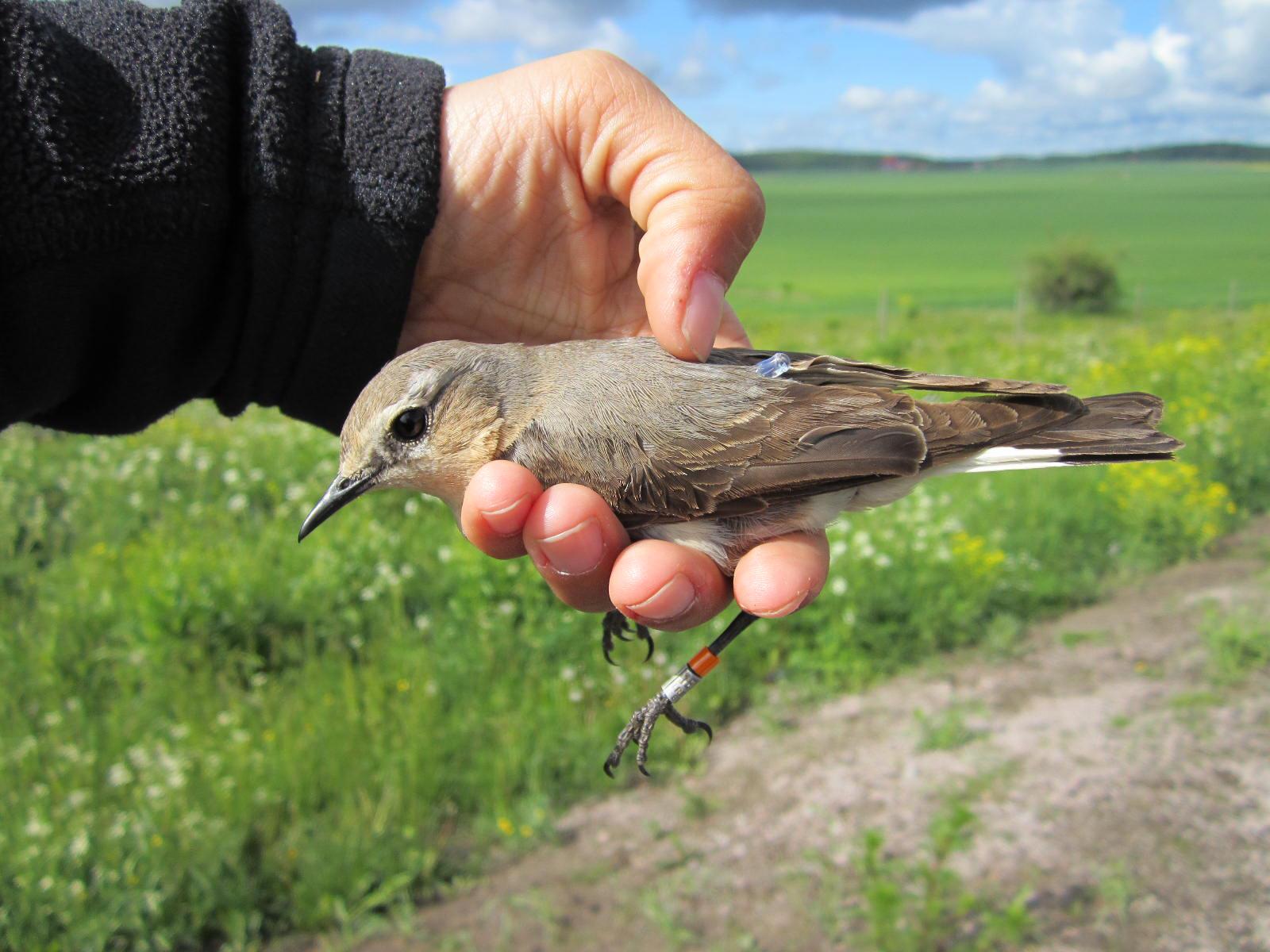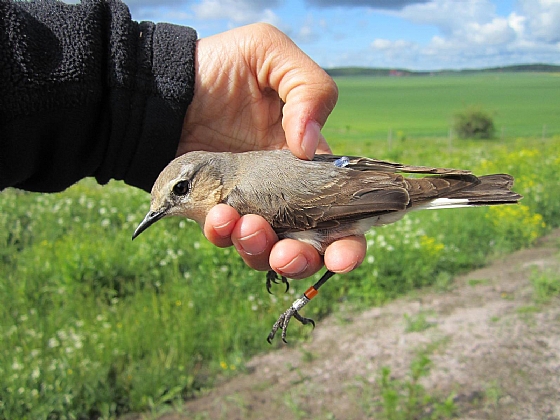 Female wheatear with geolocator attached, Sweden, May 2012.
Photo: Aïda López
Different subspecies had different strategies for male Wheatears to arrive breeding grounds before the females.
On September 29 a new article about migration in Wheatears was published in the prestigious scientific journal, Behavioral Ecology, from Oxford University. The article presents the results from a study of the two Northern Wheatear subspecies in Europe. We have had the pleasure to contribute to it with our ringing data from 511 wheatears ringed at Lista Bird Observatory during 24 years.
By Aïda López

The article's title is Proximate causes of avian protandry differ between subspecies with contrasting migration challenges and it was found that while the males of the European continental Wheatears (subspecies oenanthe) left the wintering grounds earlier than the females to arrive breeding grounds first, the males of the Arctic subspecies of Wheatear (subspecies leucorhoa) arrived breeding grounds first by having a faster migration speed. The study shows, one more time, the importance of bird ringing as a useful tool for the study of migratory birds.

Wheatears in spring: why do males arrive earlier than females?

Protandry is the earlier arrival of males to breeding areas in relation to females. This is a common phenomenon found in many migratory organisms, including insects, fishes, mammals and birds, among others. Avian protandry can be important for male competition to secure the best territories and for increasing the number of females per territory, resulting in a higher breeding success.

How do males manage to arrive earlier than females to breeding areas?

Different mechanisms have been proposed during the lasts years. In this article, it's the first time that 3 different causes of protandry are studied on a single long-distance passerine species: the Northern Wheatear.

The 3 possible mechanisms that are considered in this study are: (1) males winter closer to breeding areas so the migration distance is shorter, (2) males leave earlier winter areas and (3) males migrate faster than females.

The Northern Wheatear is one of the most widespread species around the world between the genus Oenanthe, its reproduction area is huge! It is located in North America, Europe and Asia, and all of them winter in sub-Saharan Africa, making every spring and every autumn one of the longest migrations known among all passerines. There are several subspecies which breed in different parts of the world Oenanthe oenanthe leucorhoa (Canada, Greenland, Faeroe Islands and Iceland), Oenanthe oenanthe libanotica (Middle East: Eastern Europe and West Asia), Oenanthe oenanthe seebohmi (Atlas mountains) and Oenanthe oenanthe oenanthe (Europe, Asia and central and northern Alaska).

The study was applied to the 2 subspecies that migrate through Europe, oenanthe and leucorhoa. Both subspecies winter in the same habitat in Western Africa and migrate through Europe, but the breeding distributions are different, as previously mentioned.

16 study sites over Europe were used for comparing the arrival dates. 10 sites were resting areas during migration, coinciding with different bird observatories including Lista. The other 6 sites were breeding areas, which made possible to put on the birds geolocators (only on oenanthe subspecies, as leucorhoa does not breed in continental Europe).

Results of the study

Regarding the mechanism (1), the geolocator's data showed that both males and females winter in similar latitudes in Western Africa, understanding that males do not winter closer to breeding areas and that this (1) does not explain protandry in subspecies oenanthe. There was no geolocator data for leucorhoa.

Considering the mechanism (2), the geolocator's data showed that males started spring migration earlier than females, males leaving in average 14 days earlier from wintering areas. This could be an explanation (2) for protandry in subspecies oenanthe. Again, there was no geolocator data for leucorhoa.

In respect to the mechanism (3), wing sharpness and fuel deposition was determined for both subspecies and both sexes in Helgoland Bird Observatory (Germany). After analysing the data, only leucorhoa showed significant differences between males and females. Males resulted with more pointed wings (could be translated in higher speed) and had higher fuel deposition proportions (could be translated to shorter stopovers) than females. However, this mechanism (3) was not determinative in oenanthe.

We thank all the fieldworkers and volunteers at Lista Bird Observatory, the authors of this article and especially Heiko Schmaljohann and Debora Arlt for letting us contribute to this fascinating article and give sense to our data and daily work.